Description
CORROSION-RESISTANT, EXTREMELY DURABLE AND SUPER LIGHT. 
Simple and ingenious design, easy to install within 20 seconds. Big enough to boil water or cook in a small to medium pot. Cook a meal with easy-to-find, fuels like wood, twigs, branches, leaves and paper.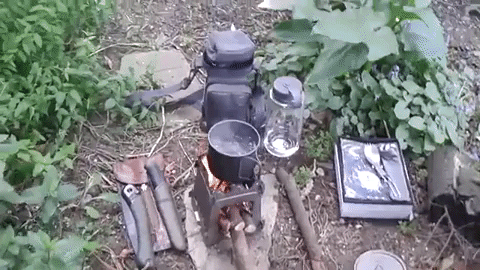 This is the perfect backpacking and personal stove companion. The Ultralight Titanium Wood Burner Camping Stove uses wood as an infinite fuel source so you can cook anytime, anywhere! This stove folds up conveniently into the size of a smartphone to easily fit in your backpack. Never miss an outdoor meal again with this convenient portable stove. This stove is made of ultra durable titanium and is built to last a lifetime. Plus it is ultra lightweight weighing in at under 8 ounces, you won't even notice it's there.
The stove is designed to use wood fuel giving you an infinite fuel source that uses branches and twigs to cook your meal. The stove can easily bring water to a boil in less than 5 minutes.
Folds up in seconds and stores away quickly to keep you going on your adventure. It's the perfect outdoor cooking companion!
Good ventilation throughout the combustion chamber makes it easier to start and sustain a stronger flame and faster cooking.
Lightweight design makes it easy to carry and it's portable and compact enough to fit in your backpack!
Made of a high quality aluminum-titanium alloy with four arms supporting it to ensure proper stability and keeping it from tipping over.
Payment & Security
Your payment information is processed securely. We do not store credit card details nor have access to your credit card information.